WorkMarket Employer App, Assignments
6/19-Present
Lead Product Designer
Redesigned assignments creation and management experience. Ongoing research and design iteration.
Case Study, the Assignment Lifecycle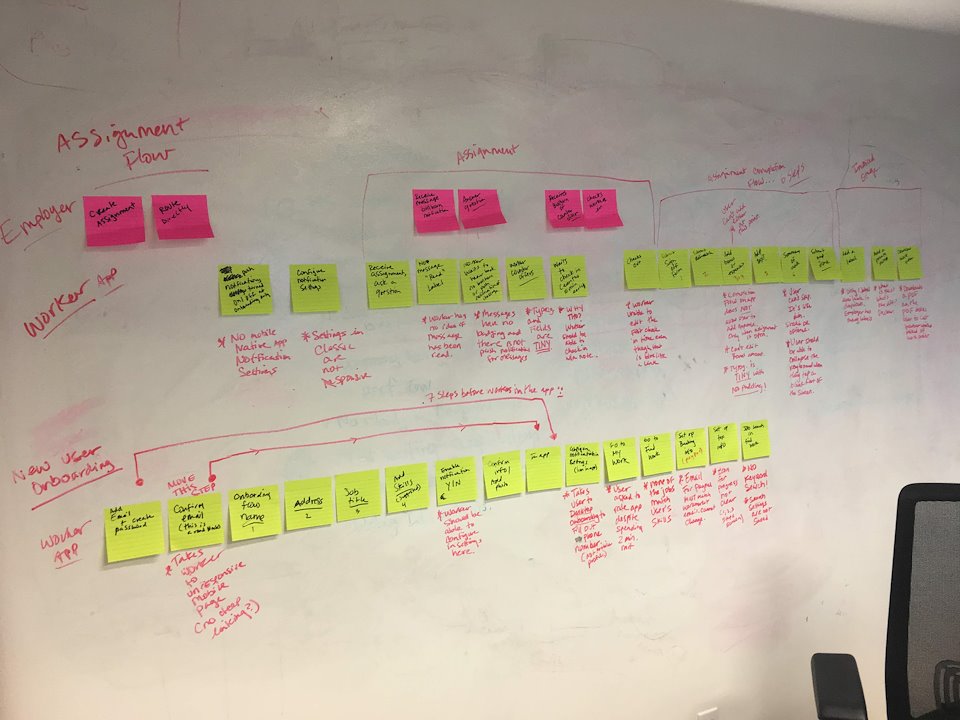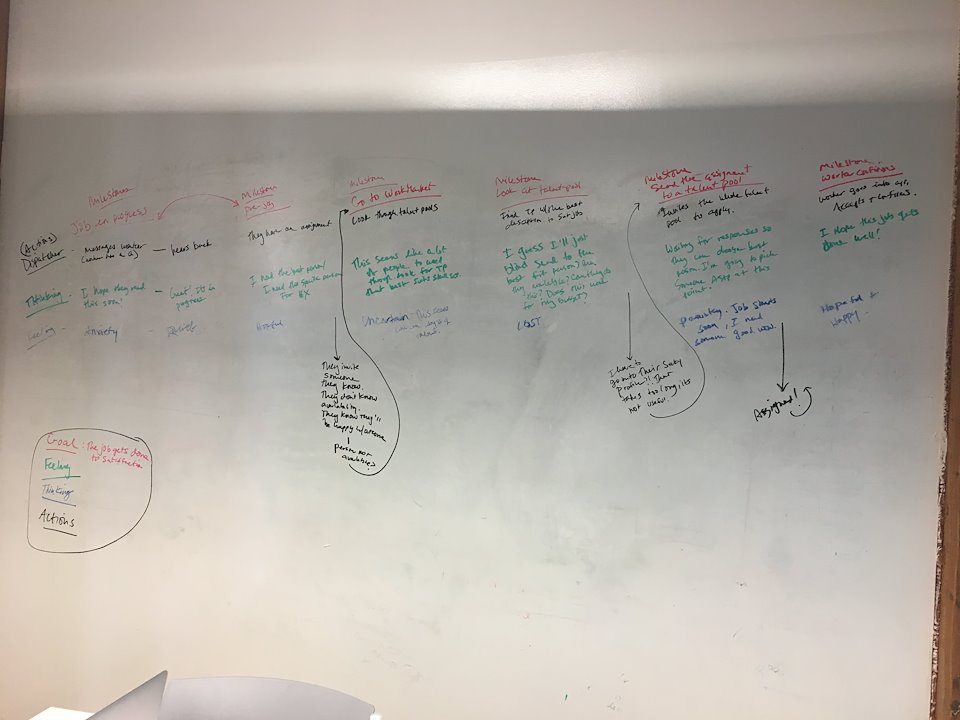 In order to redesign the complex assignment system on the platform, we needed to get intimately familiar with every single interaction between an employer and a worker before, during and after an assignment.
Two days alone was dedicated to journey mapping in one room with various scrum teams to uncover pain points and opportunities for improvement.
Research and Shadowing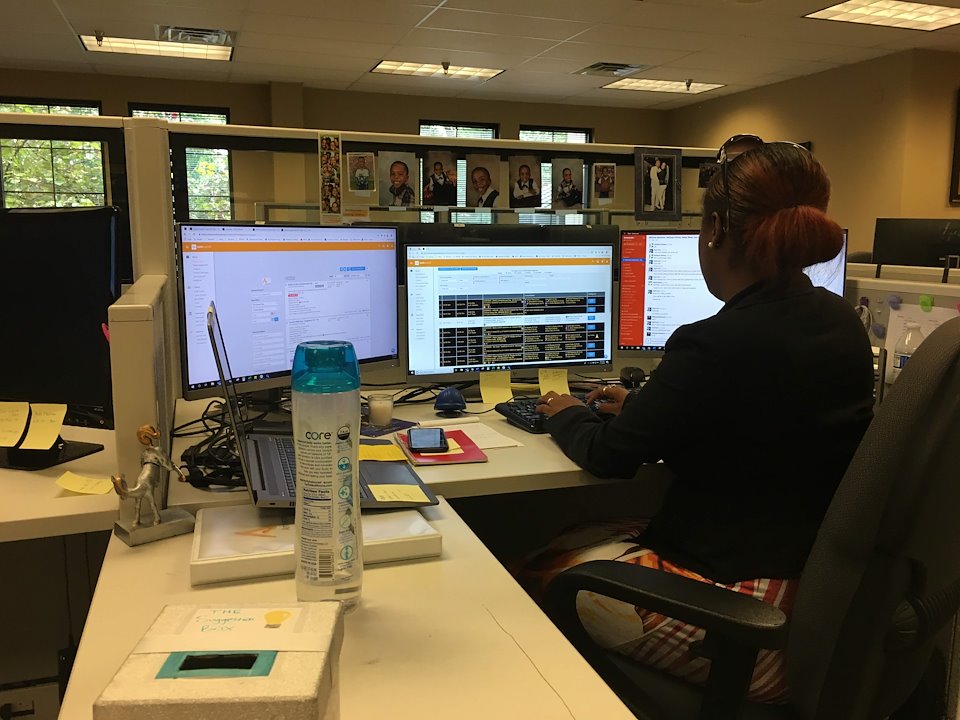 We visited various WorkMarket clients, shadowed their processes of creating, routing, assigning, rating and completing assignments on the platform. We familiarized ourselves with the different personas—the creators, dispatchers, supervisors, and payers of the work.
Time was spent shadowing them, but time was also dedicated to walking them through the new designs in a prototype, having them use it as they normally would on an everyday basis and following up with research questions. Usually a full day was spent with each client conducting this research.
Mapping Affinities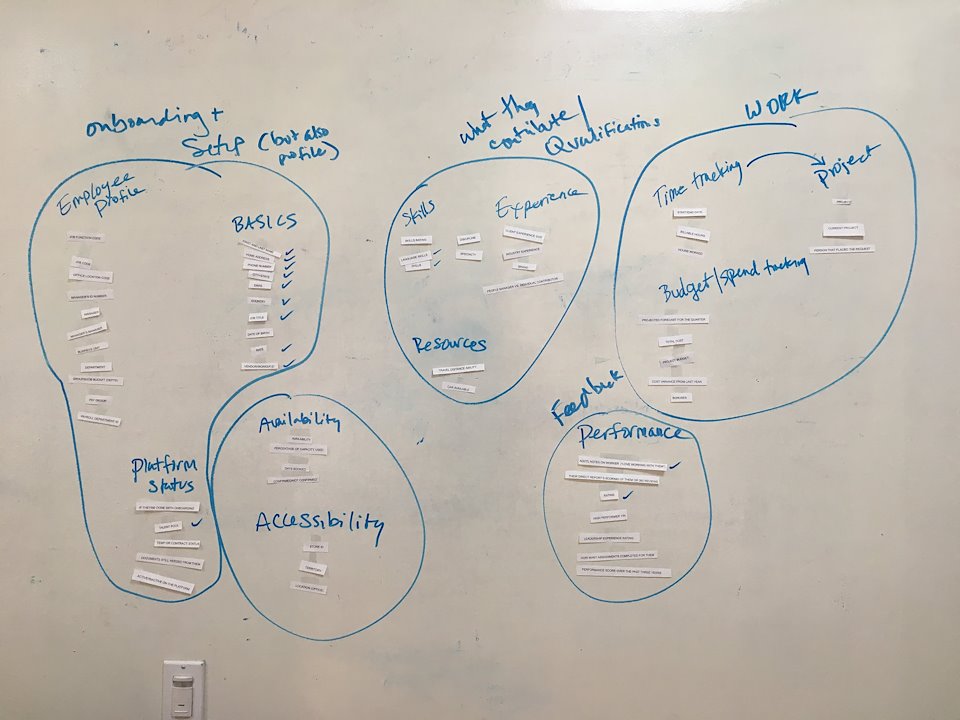 We needed to block out the noise. The assignment creation and hiring/vetting process was sometimes a monthlong, complex, back and forth process for employers and they could have as many as hundreds of assignments in play at a time. We first focused on the affinities employers had in hiring independent contractors in order to know what to put in the table on our assignments dashboard. What floated to the surface ultimately were themes of visibility into availability, skills ratings, location, accessibility to job location and cost of work.
Worker Availability, a Design Sprint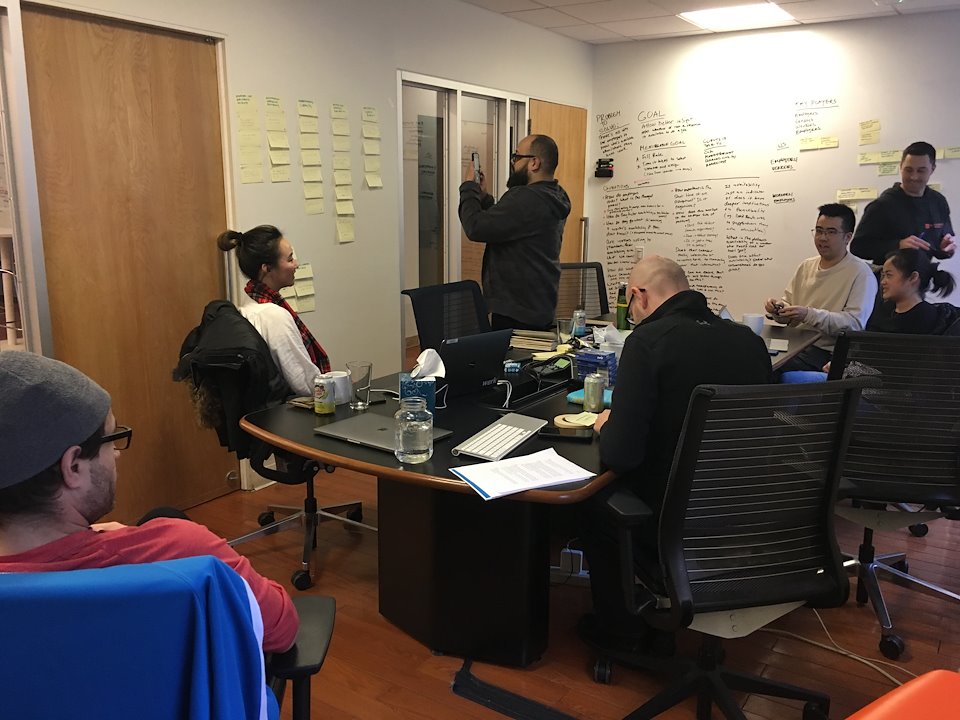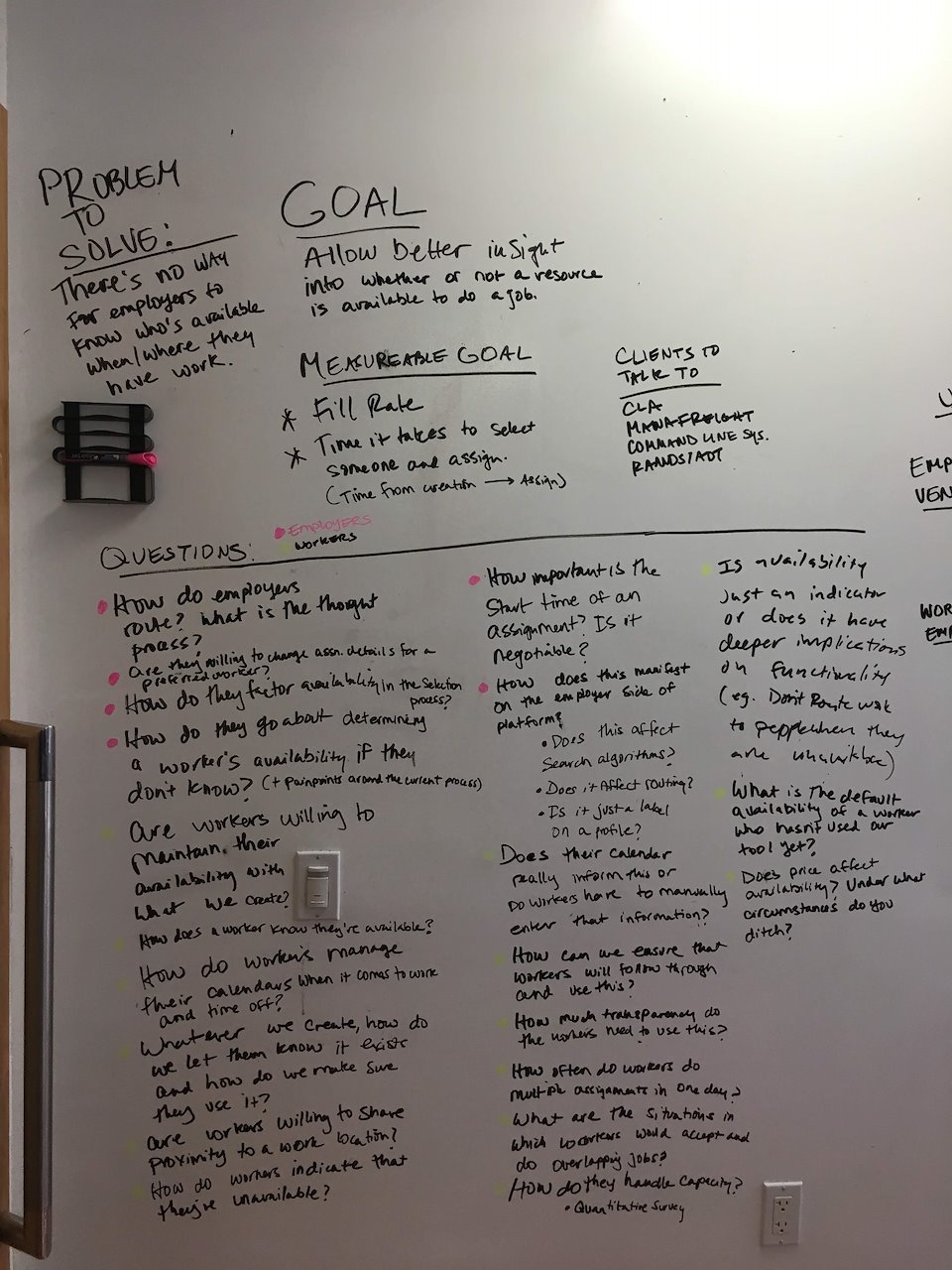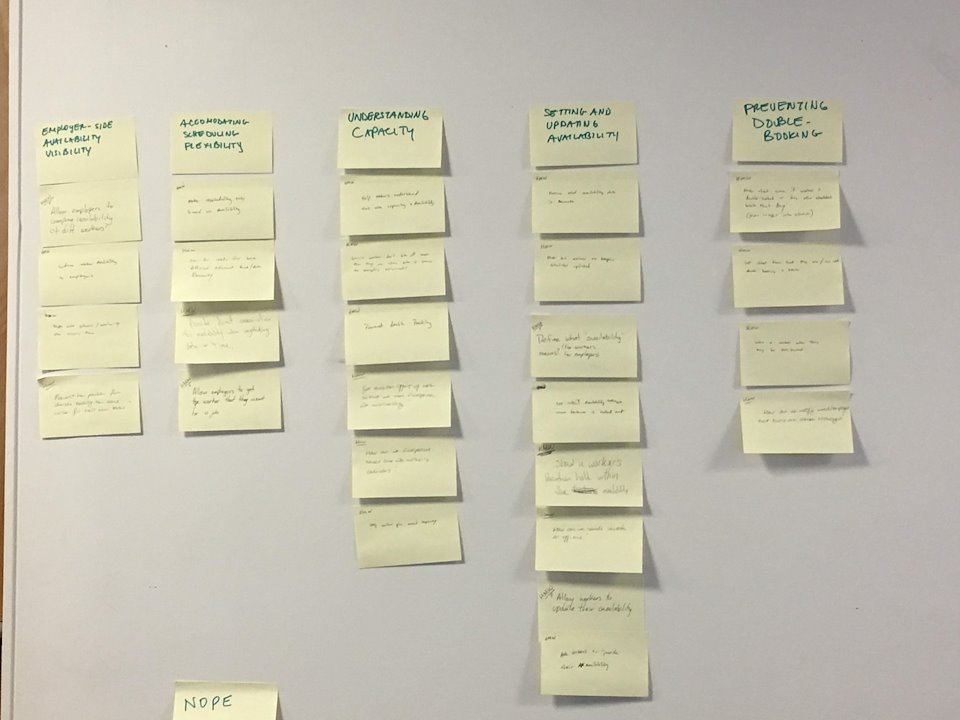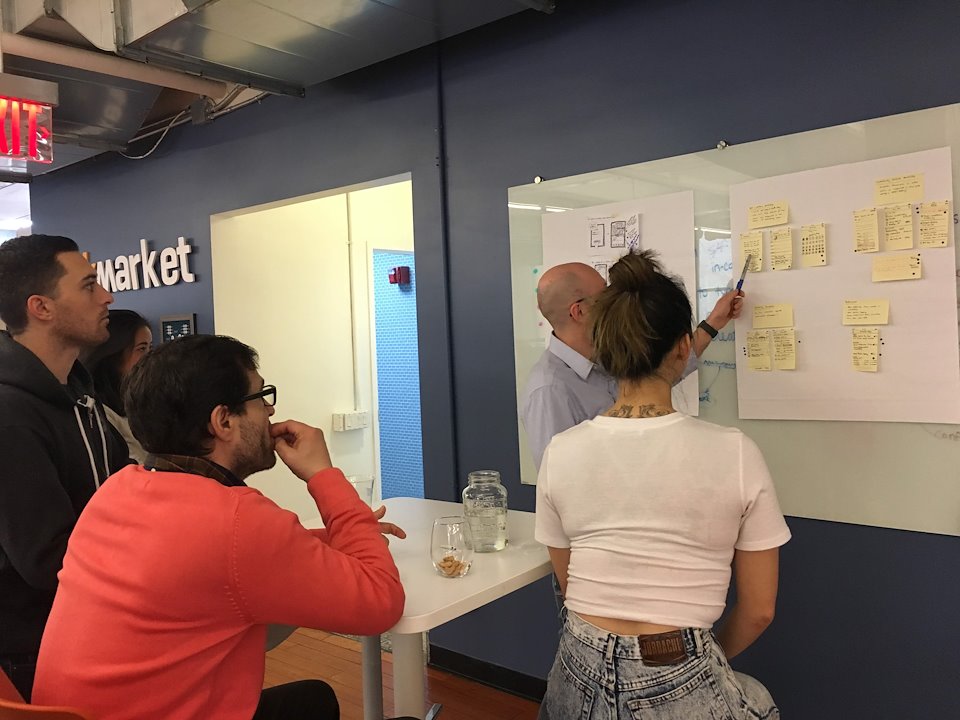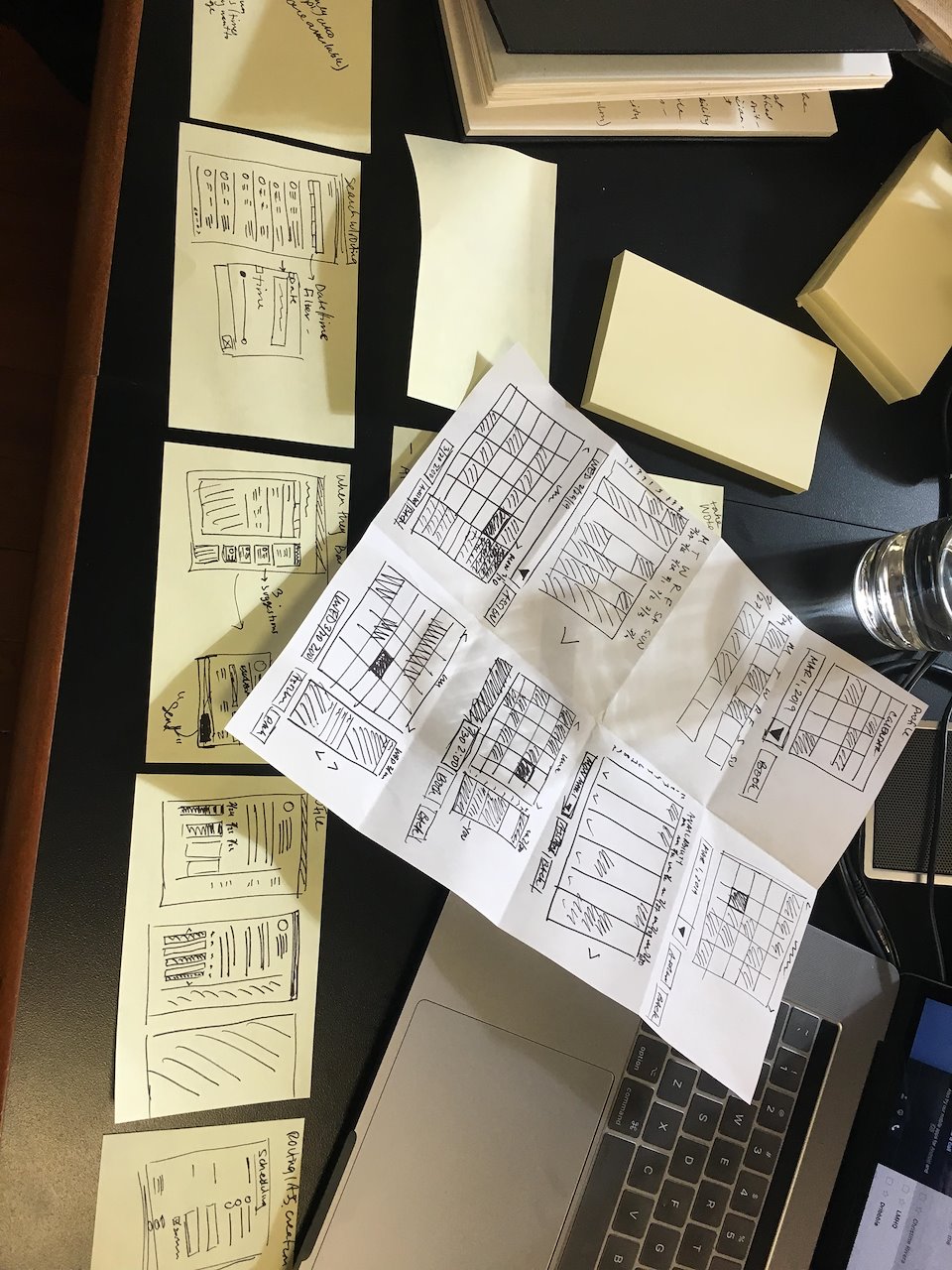 Worker availability became a focal point after a lot of user research that begged for the ability to have some insight into a worker's calendar for hiring managers. What we ended up designing after a week-long design sprint was the ability for a worker to block vacation time and enable assignments to auto-populate a calendar without the names of jobs or employers (for privacy purposes) and without having to enable an external calendar integration.
We did the footwork and another scrum team took on the final designs.
The Assignments Table and Details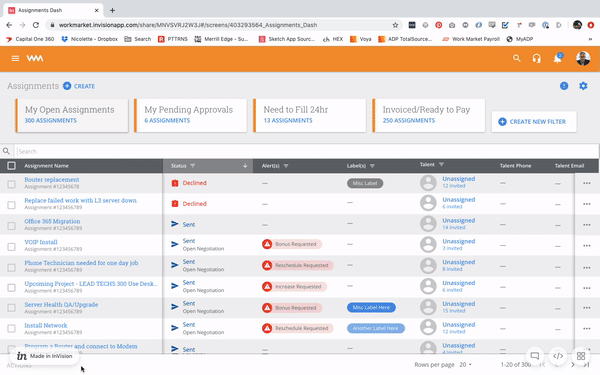 Assignments needed to be accessed from a central hub with robust search, filter and bulk action capabilities. We stuck to the Material Design table grid for this feature because it was a component that was in our design system that could be easily built and iterated upon.
One of the first things we heard in research was that users needed to have sticky, customizable filters for this table. We discovered that different personas needed to have very different sticky filters. Work dispatchers needed to immediately be able to filter on assignments that were unstaffed starting in 24 hours, work managers needed to just see the in progress assignments, other dispatchers were responsible for viewing and approving deliverables at the end of an assignment and accounts payable were primarily concerned with closed assignments that were ready for payment approval. In order to be able to encompass the assignment lifecycle while making accommodations for each persona, customizable, sticky filters were created, giving it more of a dashboard feel than just a table.
Up Next:
WorkMarket Employer App, Payments